Team 16 International Adventurers Race Report
EMA 2001 Amazonia Nov 25- Dec 1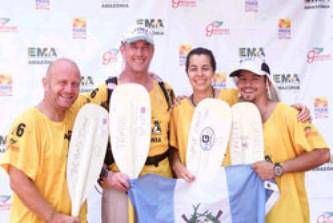 David Primus Kristel Chiqui
Cyprus England Guatemala
Thursday 22 Nov
Team gathered at Amazon Lodge Hotel in Santarem, Para. (Race HQ for EMA).
Weather was hot and humid; temperature 100 F. Hotel overlooked the River Tapajos. News was received that Pharminex, one of the pre race favourites would not be competing due to lack of Sponsorship, however there were still a further fifty three, four persons teams entered. We were all in good spirits and looked forward to racing together. We assembled our mountain bikes and gathered together our compulsory equipment, which was checked out by the Organisers. We also handed in copies of documents pertaining to our abilities in first aid, rope-work and white-water canoeing. Strangely there were no practical tests to be undertaken.
Friday 23 Nov
Another hot and sunny day, there had been no rain in the area for two months. Team attended a pre race photo and film interview session. The interview session served to reinforce the strengths of the team, the common goal being to complete the race and enjoy interacting with the local population and have fun. It was amazing to hear how similar our thoughts concerning the race were. Following the interview we went to a local dressmaker to have our team patches sewn onto to our rucksacks and clothes. We were not sure what clothes we would wear when racing and as there were a limited number of patches we decided to attach then with Velcro. Team cycled into Santarem to visit Internet Café and collect last minute supplies, these supplies included a number of rubber duck rings to attach to our pack for the swimming stage. After dinner we took a night swim in the hotel pool.
Saturday 24th Nov
Organisers issued each team with an Emergency GPS, Emergency Beacon and a Satellite Phone. We handed in a selection of medical supplies as part of a social project; these medicines were distributed to the villages' and farms along the route. We had a buffet lunch in hotel prior to the race briefing.
There were a number of speeches following, which each of the teams was introduced and the maps and route instructions were issued. Pre race instructions advised us that the course would start with a 300m swim followed by a 12K sail, 32K trek and 80K cycle. All equipment boxes and bike boxes had to be packed, ready for load out by 2100hrs.
Teams were given an option on sleeping on ferryboats for the night or catching a bus to the boats at 0400hrs. We opted to catch the last bus at 0400hrs. We returned to our rooms where Kristel and Primus the two Navigators plotted the route, whilst Chiqui and myself completed our packing. Once the route was marked up Chiqui and I checked the co-ordinates. The map scale was 1:100,000 so there was not too much detail to go on.
We retired to bed for the last comfortable sleep for a week.
Sunday 25th Nov
- D Day

We woke at 0300 and had a quick buffet breakfast before we boarded the last bus to take us down to the port where the ferries were waiting. Some teams opted to sling hammocks on the lower decks; we decided to settle down on the top deck. The starting point for the race was some five hours away down river. The Amazon was some six miles wide, more like a sea than a river, with quite large waves.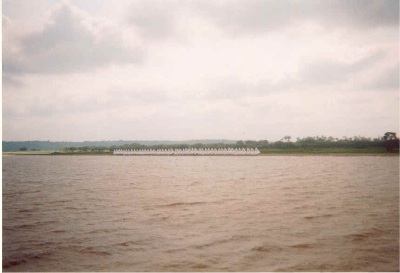 We arrived near the start point just before 1000 hrs, and could see a fleet of local canoes with there sails set awaiting for us. The ferries offloaded us by running their bows up onto the mud; whilst we waited our turn to get off the pink dolphins, which gathered around the boats, entertained us. The race start was under an inflatable arch set up on the beach, on the was to the start we took the opportunity to test how our packs floated with out rubber ducks, although Chiqui opted for a tiger rather than a duck. All seemed well and we got a good laugh from our fellow competitors and the press.
Prior to the start a team hug – to the
1100hrs guns fires and we were off; jogging towards the water as we reached the water we lowered our packs in and commenced swimming towing them behind. 300 metres did not seem a long way however the river Curua was flowing quite fast and before long we were being swept into Amazon.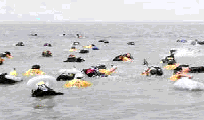 Primus took over my pack and Kristel took over Chiqui's as they were both strong swimmers, they drew ahead and Chiqui began to drop behind, I slowed to stay with him but it became obvious were not going to reach the other side, as we had been swimming for nearly an hour. A rescue boat threw Chiqui a line and then turned and threw me a line; we were then towed back to the start line. Once back on the shore, amongst about a dozen others, we made our way upstream, we kept on walking trying to judge the best place to try again, some tried too soon and were swept away a second time, others just kept on walking. Eventually we spotted a stick in the mud and settled on that as our starting point, on the opposite side were a few trees, we used these to guide ourselves at a 45-degree angle to the current. The second swim took a lot out of us but we succeeded and set of in search of Primus and Kristel. They had had their own adventure with Primus ending up towing all four packs, then loosing one.
We eventually gathered together around our local canoe and launched into the Amazon, thankfully still in the race with only two or three teams behind us. The sailing proved to be quite easy, steering by using a canoe paddle jammed against the stern. We made good progress as we tacked our way north across the Amazon to Cuieiras, overtaking three or four boats on the way.
We dragged the boat up the beach and checked in at CP3. Cuieiras was a little hamlet we brought a bottle of coke at the bar and gave away one of the rubber ducks to a local child. We spent a few minutes drying our feet and taping them for the trek that lay ahead of us. Our plan had been follow the Amazon until its junction with the Rio Gurupatuba River, as we would have easy access to drinking water.
We set off along the shore in good spirits, with two teams just ahead of us; it was easy going on the sun-baked sand although it was quite hot. One team came running past us, we caught and passed them a little later. After about some 10K we met up with a local on horseback, who showed us a more direct route to Monte Alegre, our next CP. We headed inland, towards the lakes, we had been advised not to swim across them due to Alligators. As we were walking through the shrubs, I felt a stinging sensation on my legs; it turned out it was ants on the foliage. Primus also got bitten and decided to change into long trousers. Night began to fall as we made our way past grazing Water Buffalo and through clumps of trees with trailing lianas. Bats appeared and at one stage, one landed on Kristel's neck. We put on our headlights and later another team caught up with us, then they disappeared behind us. At times it was difficult to find a path and we were beginning to run short of water so we were started to head back towards the Amazon when we saw lights ahead, so we headed towards them hoping they would have some water to spare. We arrived at a small farm and were made welcome, given water and told that the first teams had passed through some four hours earlier. It was suggested that we followed the river until we arrived opposite Monte Alegre, which was on the opposite side of the river around a corner. We set off once more spotting the lights of another team in the distance behind us.
Along the river-side we passed a number of houses each of which offered us water, the last one also offered Ice. Primus took some Photos of our hosts. Once around the corner we had to cross two rivers, they were not deep but there was a danger from Stingrays so we shuffled our way across, using our trekking poles to clear the water ahead of us. Just short of Monte Alegre we stopped on the path for a fifteen-minute break. We were a little confused when we arrived opposite Monte Alegre, as we could not make out the marker buoy where we were to cross, and there was little sign of life on the other side. We donned our lifejackets and lit up our light sticks and with our headlights on swam across the river, as we neared the shore Kristel spotted a snake, which helped to speed us on our way. We climbed up a slipway and arrived at PC4 at about midnight. We dried off and assembled out mountain bikes, got something to eat before deciding to rest until first light . One day down six to go.
Monday 26 Nov
- Day 2

Started off over the cobblestones, which were damp from overnight mist at the beginning of a hill Kristel slipped off her bike. We climbed up through the town seeking the route 423 leading via Menejo to Laguino. We passed the bus terminal, asking directions, eventually catching up with a motorcyclist, who guided us onto the correct route. Once clear of the town, the paved way changed to a dirt track, although the sand was quite firm. The road was mostly undulating with few bends so that we were able to maintain quite a good speed. Kristel began to feel ill; her blood sugar levels becoming unbalanced, so we stopped at a small farm to ask if they could boil some water. Far from offering water the family offered the whole team breakfast, rice fried eggs and lots of sweet coffee;
whilst our meal was being prepared we rested under a tree shaded from the morning sun. It was an hour or so later that we set off again, the sun became hotter and although we drank water every fifteen minutes, I began to become dehydrated, due to the amount I was sweating, I reached a stage when I did not want to eat or drink, however Kristel forced me to keep drinking and the rest of the team took some of the weight from my pack to make things easier. The day wore on with us stopping for ten minutes every hour or so for food, water and a rest. By lunchtime we reached Mulata and were able to purchase Guarana (local energy drink) that was really good.
Later we made a left turn onto route 254 and the route seem to improve, we made frequent stops for water or cold drinks and after passing through Sao Jose, we were resting by the road when one of the organisation trucks drew up and offered us iced water which we gladly accepted. Revived once more we were able to increase our pace and soon arrived at PC5, which was set up at a road junction where an alternative route joined the main road. Shortly after this we arrived at PC6, where the EMA organisation had built a small village with Electricity and accommodation for the press. There was a restaurant on site, together with showers and toilets and our equipment boxes. The next stage involved a jungle trek and as many of the leading teams had become lost we decided to remain at the PC and sleep in our hammocks until dawn, after taking showers to refresh ourselves. Team spirits were good, no navigational errors so far, no major worries and the pace seemed to be about right.
Tuesday 27th Nov –Day 3
Before setting out on our trek we handed in a pack containing food and compulsory equipment for the white-water canoe stage, this pack was transported by the organisation to PC13. We also made a decision to transfer to the Adventure Category, although we had time in hand, the team goal was to complete the race and many teams ahead of us were struggling with the conditions. The morning was fine and dry and once we had crossed the Rio Maicuru, by bridge, we picked up a track heading northwest in order to join the river further up. The track became narrower and more overgrown and butterflies surrounded us at times, eventually we approached the river valley and spotted some houses on its bank. The plan was to follow the south bank to PC7, which was a crossing point. We reached the river to find our way blocked by the river Perdidos. Whilst looking for a crossing point we found the carcass of a horse/mule. Once more we prepared to swim and as we did so another team appeared, they watched with interest as we swam across but for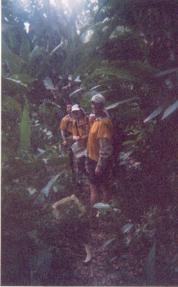 some reason did not follow us. Once we reached the other side we scrambled up the bank and began bushwhacking, following the river, knowing that there was a path coming in from our left. Occasionally we had to back track when we got too near the river. The path when we joined it zig zagged its way beside the river, climbing up and down around outcrops of rocks. Quite suddenly we emerged in a clearing where local farmers had burnt down trees and we eventually paused for a ten-minute rest sitting on tree stumps at a workers hut. The next few kilometres, the scenery was the same, burn and burning trees, then up ahead I spotted a herd of stampeding cows, I warned the others to be prepared to take cover, however Primus decided to play Chicken and continued walking towards them, the cows then slowed and ambled past. Shortly after this I called a halt to inspect my feet, I had a blister developing, so I did some additional taping. We continued on reaching PC7 having covered some 16K. We were offered fresh fruit, before setting off to cross the river, Primus and Kristel, opted to wading/swimming to cool off, whilst Chiqui and myself moved a little upstream and waded across in knee-deep water. There was a family sitting in their garden the other side and they offered us oranges and also said we could pick other fruit from their trees. We rested a while, drying our feet and were joined by the Portuguese team, who also had competed in previous Elf races. The race leaders Nokia arrived, having completed an additional 30K in order abseil down a large waterfall as part of the expedition race, they were thirsty so we gave them some purified water.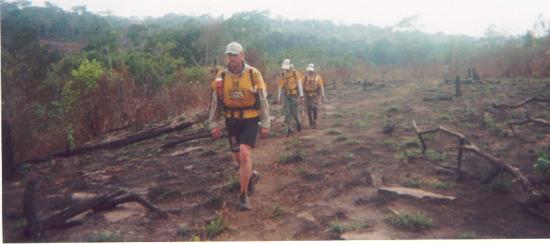 The three teams left the PC together once again following a track near to the river, we were heading for PC11 Climb/Abseil, whilst Nokia were heading for PC10. After about 8K the paths divided, Nokia headed downhill and the Portuguese decided to stop for the night in a convenient shelter. We decided that we would continue through the night to get the climb out of the way. Our night navigation was put to the test and despite some feelings that we did not know exactly where we were we reached our objective "Thanks Kristel". The climb was steep and slippery at times, Kristel and Chiqui revelled in the conditions having trained climbing Volcanoes' in Guatemala.
PC11 was perched on the side of the hill. We learnt here of a change of plan, the abseil was closed. Primus and Chiqui were to Jumar to the top, Whilst Kristel and I followed a trail; we would meet at the top then all return via the trail.
Kristel and I set off traversing the rock face before climbing up a steep path with the aid of ropes, we then arrived at a plateaux, where a Helicopter landing strip had been marked out. We knew we needed to go higher, but were unable to find a path, eventually one of the organisers appeared and fixed a light stick to a tree to mark the path, before guiding us to the top. We joined up with Primus and Chiqui and rested a while, even in moonlight the view was good looking across the jungle, in daylight it would have been fantastic. We decided that we would return to the path junction at the bottom of the hill and then find a place to sleep for the rest of the night. Some time later we got to the bottom and stopped to refill with water, there was nowhere suitable to sling our hammocks so we set off along the trail. We met up once again with Nokia who were now heading for the climb. We continued along the trail for another couple of hours, before coming across an abandoned hut, where we slung our hammocks for a few hours sleep. We were just settling down when to our surprise we saw lights coming down the path, It was Nokia, they had missed the turning to the climb and had walked around in a circle for two hours. Once again we gave them directions.
Wednesday 28th Nov - Day 4
We set off as dawn broke, the trail being quite easy, heading towards PC13, the transition to Canoeing. We had not gone that far when we met up with two teams and a medical unit with a mule. It was team Athena (Karina's team, Karina was a member of Team Compaq last year) apparently Joe had been taken ill and their radio phone did not work, so they used the other teams radio, whilst Karina made her way to the next CP for help. The medics lifted Joe onto the mule and we all set off together eventually arriving around Lunchtime at the Airstrip.
We rested in the shade and refilled our water bottles and were also given a plate of rice and chicken by the Organisation. We were to use inflatable ducks (no not the rubber rings) for the white water section and we had to carry these and our packs a kilometre through the jungle to the river, this was difficult and strength sapping, in the end two of us carried the packs whilst the other two carried the ducks one at a time to the waters edge.
We loaded up and checked that everything was tied in and were off, the water was flowing quite gently and it took us a little time to become acquainted with how they manoeuvred. Chiqui and Kristel led the way with myself and Primus following. We wended our way down the right bank of the river, with other teams just ahead of us, when they got stuck, we found alternative ways through, all was going well we passes through CP14. We approached the first of the major rapids and it looked as if it was ride able, so Primus lined us up, we passed Kristel and Chiqui, too late I spotted a log blocking the chute! There was a gap to left, to which we headed, my half of the duck got through, however Primus was tipped out and we were both in the water, we bumped our way through holding onto our paddles and swam into an eddy to survey the situation. Another team had followed us down and suffered the same fate. We frantically signalled to the others not to try it. Kristel and Chiqui got out then released their unmanned duck, which we collected for them. This rapid was a major hazard and many teams were lucky not to suffer injury. Sara Odell(Team APN) was pinned against the log for some time before struggling free.
The next set of rapids was impassable so we spent a lot of time carrying the ducks around and over the rocks, sometimes lowering them through tethered by rescue lines, it was a hot and hazardous time. The rest of the day, passed quickly with no major problems, occasionally we got hung up on a rock or in shallows but made good progress. Evening approached and a camera crew in a duck who were also heading for PC15 joined us, they kept us company for a bit before dropping behind. We eventually spotted the lights of the PC and decided to go no further as the next rapids required a portage, which would be difficult in the dark. I opted to sleep in the duck, whilst the others settled down on polythene sheeting. During the night two other teams arrived, although I did not hear them.
Thursday 29th Nov - Day 5
Once again set off as dawn broke, made our way to the top of the rapids, Kristel Scouted ahead, there was a waterfall, however we could ride the first section and stop in a large eddy. Kristel and Chiqui, set off and stopped at eddy, we followed, just before we got to the eddy the front of the duck hit a rock and we pivoted around heading backwards towards the falls, Kristel and Chiqui came out to help but it was too late we jumped over the side, Primus grabbed me to see if I was Ok and shouted for me to catch a passing rock, I missed the first but got the second, Primus swept past and grabbed my legs, then crawled over me to safety, I then crawled out with my paddle, Kristel was safe as well, not sure what happened to Chiqui. We had got out just in time two metres from the edge. The two ducks had gone over, ours was floating in an eddy about 500 metres downstream, whist the second one was trapped against a rock. I headed downstream to retrieve our duck and look for lost paddles and gear, leaving the others to retrieve the second duck. I swam across, into the eddy and then dragged the duck ashore to assess the damage. The pump and repair kit were missing, along with my trekking poles, my rucksack had been pummelled by the water and bust open, so my climbing gear and headlamp were also lost. The waist strap, which secured it, was hanging on by a thin strip if material. Major Calamity "Clarence" a veteran adventure-racing crustacean was missing from his pocket in Primus's backpack. I searched around and recovered some water bottles and also a paddle belonging to Nokia. Meanwhile Kristel was freeing her duck.
Unfortunately we lost one paddle, so when we set off again, Kristel and Chiqui each had a set of paddles and Primus the strongest paddler paddled me. Faced with a long day on the water things did not look to good, from time to time we tried towing, which worked with limited success. My job was to keep everyone's water bottles full and treated with Iodine. When Primus needed a spell so he could eat or stretch, I took over the paddling. We did however make quite remarkable progress and were soon approaching the last waterfall beside which PC16 was placed. The portage here was easy, with flat rocks to walk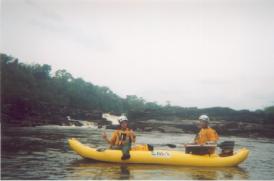 over and an easy slope and stepped rocks to the lower level. Once afloat again we paused to photograph the falls. The river for this final section was very shallow and when passing through the shallows we needed to place our weight on the sides of the duck to avoid it dragging across the bottom of the river. Coming around a bend I spotted a bus passing along a ridge in front of us, we were nearly there, two bends later the bridge was in sight, with many of the locals bathing in the water, we made our way past them, landed on a beach and carried the ducks into the PC arrived 1500hrs. Ready for Stage two.
Stage two was to be 110K Cycle, followed by a 60K sail. Priority for us was to get some hot food inside us so we repaired to the restaurant, excellent scrambled eggs. Two stages to go, our goal was within reach. We had to leave PC18 the sailing stage by 0900 Friday, so we needed to cycle through the night. We set up our bikes, checked lights and batteries, and loaded food for two days. Primus and Kristel checked and updated the maps and we were off around 1600.
I was keen to cover the maximum distance we could during daylight, knowing I cannot see well at night, however it was necessary to pace ourselves, the first part of the route was the road we had arrived on, we then turned off at what had been PC5,
The road was undulating but generally downhill and we made good speed as we headed towards the next road junction at Cazula, here we turned right heading towards the next junction at Encruizilmada, darkness fell and our pace dropped, the road crossed a number of streams and following one near miss and one crash we adopted a rule that we would stop at each bridge and walk across to avoid jamming our wheels in the holes in the planking. During the dark hours we stopped ever hour to 90 minutes for 10 minute food/water/rest. Shortly after leaving Encruizilmada, a convoy of film vehicles passed us taking night action pictures. We reached the edge of the Serra Grande and began a steep decent, I was following Chiqui and whilst reaching up to switch on my light lost control, I somersaulted over the handle bars still attached to my foot straps landing on my head ******** I heard Kristel say don't move", I had no intention to, once the stars cleared, I slowly checked I was ok. My bike seemed ok so I remounted, only to ride into a hole and fall off a few yards further on. Primus proposed a 45-minute recovery stop, so we moved to the side of the road, I took my damaged helmet off and discovered a cut on the side of my head, to which Primus applied some ointment. The team took my pack and its contents leaving me only with my Platypus stuffed inside my shirt for water.
We set off again I followed Chiqui closely as he guided me over the smoothest part of the track he could find, progress seemed painfully slow, at times when the others stopped I continued slowly on knowing they would easily catch me up. The ground began to flatten out and my confidence returned we paused near some lakes, about 10 K short of our destination. The last few kilometres seem to go on for ever, Kristel and I drew ahead of the others, we reached the top of a small hill and there before us were the lights of the ferryboats and the PC. We paused waiting for Primus and Chiqui, who had stopped on the other side of the hill to adjust their loads not realising how close they were. We rode together to the checkpoint arriving about 0330.
Our bike boxes were on a ferryboat moored outside another one, as Primus boarded the first one he slipped off the gangplank taking his bike with him, luckily he did not injure himself. We passed each of our bikes down to him and set off to find our boxes. There was not much room free to pack our bikes but soon the chore was done. I had a good look at my helmet for the first time, virtually a quarter damaged or missing. I had been lucky. We hoped to get away in the local canoes at 0600, however by the time we had settled down we decided to be ready for 0700. I sought out the doctor, who cleaned up my head wound and then settled down to rest.
Friday 30th Nov – Day
I woke at six, no wind, I had some breakfast then went to find our boat amongst the others lined up along the river bank. There was a muddy, slippery path close to the water, so I decided to walk along the top of the bank then made a path down through the rushes to our boat. I checked everything was ok then went back and checked my food and water whilst I waited for my team-mates to awake. A bus arrived carrying teams who had not completed the cycling; they had been moved forward to the final stage. Chiqui awoke suffering from Tendonitis in his wrist, so went off to have it strapped, meanwhile the wind began to rise.
When we went to check out at 0725 the timekeeper's keeps had lost our passport so we set off without it. The first leg of the sail was down a narrow channel and we together with another team quickly pulled clear of the pack. The wind was virtually behind us and as we left the shelter of land it increased in strength, and it became necessary to tack downwind rather than risk a gybe because the canoe paddle did not provide over leverage to prevent broaching. Once on the open water the current was flowing in the opposite direction to the wind creating large waves, which threatened to swamp us. We lowered the sail and attempted to paddle but the current was too strong so we hoisted it again. I looked across at the other boat Primus Da Mata which had headed towards an island, in time to them swamp. Shortly after this a wave came over the side and in seconds we were in the water. I swam to the bows and lowered the sail then started to collect water bottles and equipment, which had not been tied in. I was starting to work on the sail to put a reef in when a rescue boat appeared. They took us aboard and towed the boat into the shelter of the island. I was annoyed with myself but determined to continue. Kristel was shocked and upset, however she had got me this far now I had to get her and the rest of the team to the finish. Team confidence was at an all time low. I suggested we reef the sail to make it more manageable, however the rescue team said it was ok as it was and we would be sheltered from the worst of the wind. They did however offer us a local canoe paddle to make steering easier.
We emptied the boat and loaded up again heading for PC19, which was downwind. Now the current and wind were going the same way so the waves were smaller. The PC was in a small bay, so we made a decision not to enter but land at the entrance where some other boats had beached. I explained to the team that we need to reef the sail, Other teams had tied off parts of the sail, however I wanted to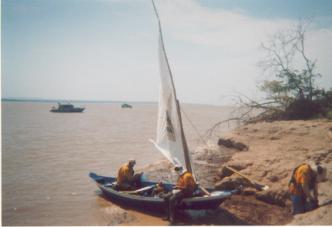 make the whole sail lower, so we took the sail off the mast and rolled it around the boom thereby lowering the centre of effort and making the boat more stable. I was pleased we were all working together again. Kristel went to see what the conditions were like on the other side of the island whilst Primus, Chiqui and myself worked on the sail. When Kristel returned she reported it was calmer the other side, so she and Chiqui walked the boat along the shore and around the spit to the other side whilst Primus and I carried the mast and sail.
The wind was now blowing 35-40 Knots and the rescue services were being hard pressed, they advised us to keep close to the shore then follow the ferries across towards Santarem, if we crossed to soon the current in the Amazon 5-8 Knots would sweep us down river. We hoisted the sail, it looked good, but one end of the boom stuck over the foredeck, so Chiqui needed to take care not to be knocked overboard. We set off, I requested everyone not to move without telling me as we had only a little freeboard. Primus sat in front of me tending the sail, with Kristel between him and Chiqui in the bow. The boat picked up speed and we soon caught and passed Primus Da Mata, we kept to the edge of the Amazon out of the current, we could see many sails scattered along the other bank, downwind and behind us. Kristel Offered to buy me a bottle of Gin if we passed the port of Santarem without mishap.
Primus Da Mata and ourselves seemed to be the only ones on this side of the river, we were evenly matched and we were to continue together to the finish. When we reached the point where the ferries crossed, I decided we need to continue, as the course they took, we could not sail, so we continued up the Amazon until we had nearly passed the Rio Tapajos, then we aimed for the spit of land separating the two rivers, balancing the wind and the current we traversed the river where the waves were up to two metres high, it was exhilarating, if a little daunting as we were two small boats in a very large river, slowly but surely we inched towards the land mark cranes of the port. The waves began to subside; we were across the Amazon heading towards the beach at PC20. I could see the relief on Kristel's face. We made our way across the Tapajos, passing the Amazon Lodge hotel, we nearly sailed passed PC20 had it not been for a young boy who called out to us.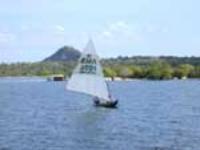 The wind began to drop and we shook out our reef, speed dropped and the team started to paddle, darkness fell, the full moon arose, illuminating the boat following, a dolphin jumped out of the water, what a beautiful scene.
We were on the final leg, time passed slowly, and I handed over the helm to Primus to take a little rest, as my fingers were numb from the strain of steering. A little later a beach blocked our way, we landed to seek a way across, there was none, merely a boat with a party going on, we were tempted to stay and join in, but no - we must finish the race. We rounded the spit of beach and set course for Carapanari beach, the finish line. This proved an elusive place to find and we spent an hour tacking backwards and forwards fighting the current, eventually we landed to find that we had to drag the boats up a small river for a kilometre to reach the finish. Another small boy guided us, as it was very shallow, we were greeted by a dreary dirge played on a harmonica. We joined up with the team Primus Da Mar and crossed under the finishing arch together time 2225hrs. 131 hours of competition behind us.
Mission Accomplished, I cannot describe the feelings, three years of racing, fifteen years of dreaming, at last my team had finished an expedition race.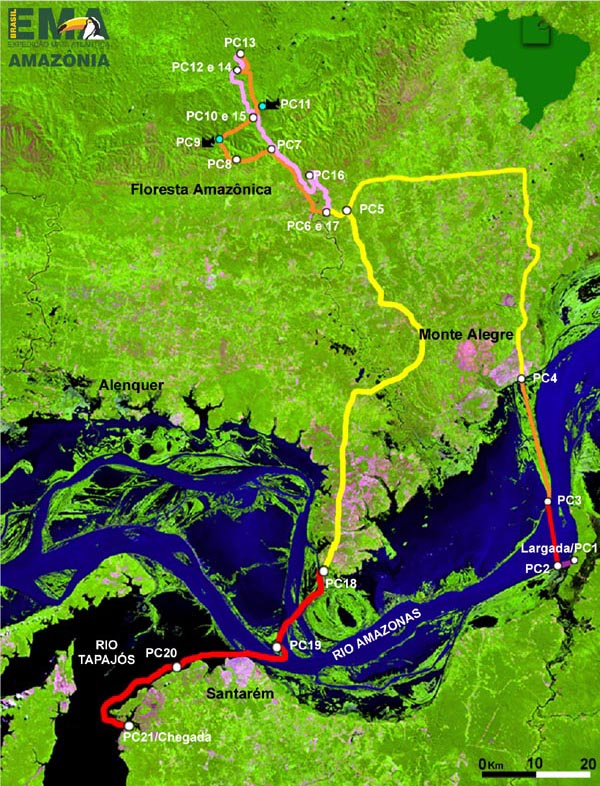 The team was justly proud of our achievements:
11th Overall across the line.
6th In Adventure Category.
Awarded a prize for being the Friendliest Team.
First ranking finish for Athletes from Guatemala.
First finish for a Cyprus based Athlete.
I would like to thank my team for their effort and support:
Kristel for her excellent navigation and dare I say mothering, also for arranging jungle training sessions in Peten, Guatemala.
Primus for his navigation and being a tower of strength throughout the race.
Chiqui for his guidance during the night ride and his urging to keep moving, also for arranging white water canoeing in Guatemala prior to the race.
Kristel and Chiqui's families for their hospitality in Guatemala.
The team was formed for this one race but I would be proud to race with them, or support them in a future race if the opportunity arose.
Photographs by www.fotosite.com.br and David Ogden
Links.
http://www.corridasdeaventura.com.br/emaonline